In this article we look at the recent changes to the US Sunshine Act and ask Mark Linver, Managing Director at Huron Life Sciences, to give BMI SYSTEM his insight into the hurdles pharmaceutical companies must overcome to ensure compliancy.
Timeline of events
The Physician Payment Sunshine Act details how healthcare manufacturers (pharmaceutical, biotechnology and medical device companies) must disclose financial relationships with doctors and teaching hospitals in the US. Renamed the National Physician Payment Transparency Program (Open Payments) –  its final changes took place in February 2013 and declared that from August 2013, all payments should be recorded and presented to the Government's Centers for Medicare and Medicaid Services (CMS) by the 31st of March 2014.
A 45-day review and correction period will then follow this date; during which recipients, doctors and investigators may sign into the CMS secure website and review the data submitted by healthcare manufacturers and choose to dispute certain payments or other transfers of value.  Following the end of this review period, healthcare manufacturers will have an additional 15 days to correct data following a dispute and resubmit to the CMS. In September 2014, the information will then be published on a publicly available website.
Compliance challenges
The consequences of publishing payments in this way will open up the data to scrutiny, not only from the public itself, but also from law enforcement, the media and advocacy groups.  Mark Linver, Managing Director at Huron Life Sciences, described to BMI SYSTEM how the biggest difficulty for healthcare manufacturers is to ensure that information is recorded accurately, "The main challenges in the collection of the data are: firstly, collecting the right data and capturing it correctly: payments must be associated to the right healthcare provider (HCP), which can be done through the use of identification and license numbers. Payments are also to be filed into distinct categories defined by the US government, such as consulting fees, honoraria, entertainment, food, education and research."
"The second challenge is then to ensure the data is reported in the proper format with no error, so that it can be uploaded onto the publically available government portal. Added to this, companies must know how they will handle disputes. Healthcare manufacturers need to have to have an infrastructure in place to handle disputes before July 2014."
Monetary fines are one consequence of non-compliance to the US Sunshine Act:  fines between $1,000 and $10,000 exist for failure to report payments appropriately, up to an annual maximum of $150,000.  For "knowingly" failing to report, the penalty for each payment escalates to between $10,000 and $100,000, up to an annual maximum of $1,000,000. However, according to Mark Livner, the fines should not be the only deterrent:  "It's seen as good practice to be complaint, but importantly, having flaws in reporting leaves the door open for further investigation."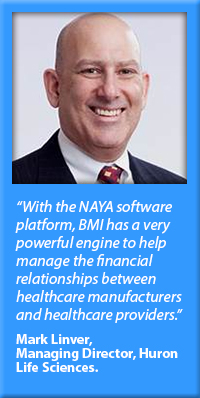 A word of advice then for any healthcare manufacturer wanting to ensure that payments are correctly recorded is to ensure that there is a robust system in place for data capture. A certification process within the company would be able to ensure this.  According to Laurent Clerc, Regulatory Affairs Expert at BMI SYSTEM, "A tailor-made software solution with a built-in certification system would be the best way to give a company confidence that the data is being reported correctly. Healthcare companies could then be sure that their data is accurate as it comes under the spotlight of public scrutiny."
The challenges of local to global compliance also need to be considered by healthcare manufacturers: a topic discussed by BMI SYSTEM at the CBI 11th Pharmaceutical Compliance Congress, Washington, DC. Since all US businesses working in different countries should to be compliant with local laws, BMI SYSTEM's presentation will investigate: The dynamic shift from implementing disparate country by country compliance solutions to a single Global 2 Local (G2L) approach.
The Sunshine Act: the future's bright
Changes in the relationships between healthcare manufacturers and HCPs are already being observed in the US. For example, some hospitals do not want to see doctors' names in print and are discouraging payments from HCPs. It will therefore be interesting to see how the public will react to the publication of payment data in September 2014, and how this will drive further changes. It will also be interesting to see how relationships will alter in Europe, in the light of modifications to the European Federation of Pharmaceutical Industries and Associations (EFPIA) disclosure code. The recent news that GlaxoSmithKline (GSK) will stop certain payments to doctors, for attending conferences for example, indicates that relationships are also changing this side of the Atlantic.
Business that will thrive in light of the Sunshine Act will be those that can improve their reporting capabilities: poor reporting and the reporting of inaccurate data could subject a manufacturer to harsh financial penalties – and – even more critically, could damage customer relationships and confidence in the product. According to Mark Linver "A tailored software system can be a very useful tool to manage the relationship between HCPs and healthcare manufacturers."

Eight (good) reasons to cooperate with BMI SYSTEM
1. 10 years' experience in the healthcare sector
2. Successful implementations in more than 40 healthcare companies and 8 countries
3. 50% of the top 20 pharmaceutical companies trust us
4. Implementation of global as well as national (or state) solutions
5. Governance, Risk Management & Compliance (GRC) focused solutions
6. Smooth integration with SAP, Concur, Sales Force, Mobile Intelligence, Oracle…
7. iPad and mobile version for sales force
8. Cost effective worldwide implementations