On October 12th, the ABPI, the Association of the British Pharmaceutical Industry, published a survey [1] showing that healthcare professionals believe payments received from the pharmaceutical industry should be made public.
​What do HCPs think about public disclosure of payments?
According to the poll of more than 500 doctors, nurses, hospital specialists and pharmacists, 87% of respondents felt payments made by pharmaceutical companies should be transparent. 69% of HCPs with a current relationship with one or more pharmaceutical companies say that they have given or are likely to give permission to the pharmaceutical companies they work with to disclose their payment information.
The survey comes as pharma companies are preparing for the disclosure of transfers of values to HCPs and HCOs made in 2015 and due to come into effect by June 30, 2016.
"Our collaboration as the biopharmaceutical industry with doctors, nurses, pharmacists and other healthcare specialists enables us to research, develop and deliver medicines that make a difference for patients. […] In return healthcare professionals working with industry benefit from learning more about the latest medicines and treatment options as well as the opportunity to advance the development of medicines for the future."

Dr Virginia Acha, Executive Director Research, Medical and Innovation at the ABPI
Will this impact relationships between the industry and HCPs?
According to the survey, 75% of HCPs say that the disclosure of payment data will not impact their relationship with pharma companies. However, disclosure would make 23% of general practitioners less likely to work with the industry, compared with 17% of hospital specialists, 10% of pharmacists and 6% of nurses.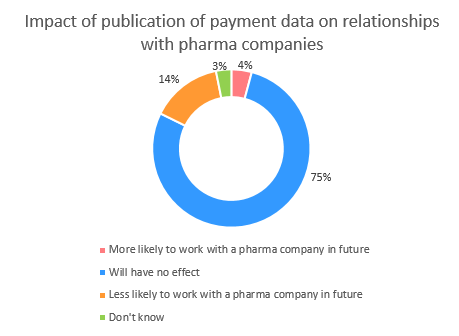 Even though HCPs mostly agree with public disclosure, 84% ask for more information from the pharma companies on how it is going to affect them.
[1] http://www.abpi.org.uk/media-centre/newsreleases/2015/Pages/121015.aspx