London, 26th June 2013: BMI SYSTEM held its fourth successful seminar in London entitled "Meetings organisation & public disclosure: what does optimal preparedness look like?".

The seminar, hosted in conjunction with Compliant Venues and CWT Meetings & Events, took place at One Wimpole Street and explored recent moves to improve the transparency of relationships between pharmaceutical companies and healthcare professionals (HCPs) and organisations (HCOs), with an emphasis on 'meetings' and how they can be organised to comply with recent changes to national and European codes of practice. A point of focus was the issue of managing data from third parties, for example travel agencies, using well-designed IT Systems that ensure transparency and the ability to easily audit data.
Delegates were asked at the beginning and end of the seminar to answer a question about how prepared their companies were in terms of compliance with UK and European Pharmaceutical Industry codes of practice for 'meetings and events'. The majority replied initially that there was a high level of compliance, however by the end of the meeting clear most agreed that there was a strategy in place, which was not yet complete. These results highlighted the need for more discussion on how compliance and data disclosure will be achieved in the near future.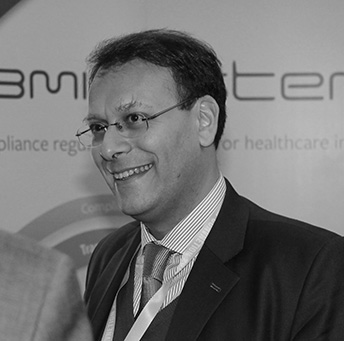 Laurent Clerc, Regulatory Affairs Expert at BMI SYSTEM, outlined the need for companies to design robust processes at the national and corporate levels, which incorporate all the data linked to the hosting and organisation of meetings and events into one system, in order to ensure that compliancy requirements are met.
Cecile Drévillon, Accounts Director at CWT meetings and events, France, discussed how agencies are finding it more and more challenging to provide the level of detail that is often required by companies to ensure they are complying with transparency needs. However, as policy and procedures will evolve in the future, this is a key issue that needs to be addressed. Mark Handforth, Director at Compliant Venues, suggested that technology may be the answer.
According to Laurent Clerc, "The pressure of compliance is getting higher and higher and in the future, businesses will need to invest in more people to check compliance, or have better IT systems in place that can cross check information. The main challenge for companies is the ability to aggregate high levels of data. Any IT tools to ensure the compliancy of meetings and events cannot be a stand-alone tool and must be integrated with internal data management systems in order to be a success. Manually inputting all data from third parties is a resource intensive process – so the key is an IT tool that harmonises and exchanges data with different systems."
An important question raised during the seminar was to what extent businesses understand the costs involved in being fully compliant with the new disclosure rules published in the Association of British Pharmaceutical Industries (ABPI) and the Europe Federation of Pharmaceutical Industries and Associations (EFPIA) codes of conduct. A substantial investment is needed in human resources, as well as IT systems, to ensure compliancy. However, despite these costs, the investment is worthwhile compared to the damage faced by a company if there is a breach of industry code of conduct. According to Laurent Clerc, "There is a need for robust processes with validation at each step. It is better to validate at each stage than have to manage disputes at a later stage".
He then explained the main differences between the UK's ABPI code and the French Betrand Law and the EFPIA code of conduct; highlighting how the management of HCPs relationships will stay at the national level but that a global vision is necessary. "The implantation of the Betrand Law in France, has shown how there will be future changes in the relationship between HCPs and pharmaceutical companies," he added.
BMI SYSTEM's NAYA software solution is able to anticipate compliance and flag up any breach of compliance through its built-in arbitration programme. Collection of data from agencies and CRMs are centralised and the system's "watchdog" checks if expenses are in phase with the fair market value and sends a notification to the user if this is not the case. The system is also able to improve the quality of an HCP database with feedback from a third party agency.
The majority of participants at the meeting agreed that their organisations do not have a tool to allow meetings comply with local requirement, whilst allowing a global vision – and cannot compare, in real-time, fair market values to all transfers of values made to HCPs and HCOs. These findings uncover many of the challenges that companies still face to ensure that meetings and events fit with national codes of conduct. Towards the end of the session, there was a reduction in the number of delegates that actually thought that there was a clear strategy for meetings compliance in their companies, highlighting the on-going work necessary to ensure that companies fulfil their transparency requirements. An interesting piece of feedback from the delegates was the idea that compliance will have an impact on how meetings are run and structured: the large majority agreeing that the number of virtual meetings will increase in the future.
About BMI SYSTEM
BMI SYSTEM develops regulatory compliance software for the healthcare industry.
Through the creation of bespoke solutions for a wide range of companies in the pharmaceutical, medical device and cosmetic industries, BMI SYSTEM has become the leader in the development of software dedicated to transparency and regulatory compliance.
The team, based in Paris, London, Brussels and Boston, has been built using a strong expertise in global healthcare regulations, software architecture and design, quality assurance and healthcare project management.
contact@bmi-system.com