The 13th Pharmaceutical Compliance Congress that took place in Washington, DC, from April 26th to April 27th 2016, was a good opportunity to make an assessment of the situation regarding compliance in the US, and to some extent, across the world.
2015 resulted in many indictments with a particular focus on financial ties with specialty pharmacies and an increased scrutiny on controversial drug pricing (e.g.: Turing drug pricing on Daraprim), but at the same time with the willingness to give all US citizens the opportunity to receive appropriate care through the "Affordable Care Act" voted in 2015.
Here are some topics raised during this congress.
Increasing compliance investigations
Many companies in the life sciences industry received penalties in the US. In 2015, more than 2,4 billion dollars of fines were charged to 19 companies in federal settlements[1], 172,1 million dollars in state settlements and 3,123 billion dollars in civil settlements.
The move towards more compliance appears to be global and reaches all continents. In Asia, China launched investigations on three medtech multi-nationals over bribery suspicions. In Europe, Romania launched bribery probes on eleven drug makers and Hungary fined three drug manufacturers for cartels.
The FBI, who is also involved in investigations in the US, made a presentation of its organization, explaining that they invest in educational programs to train people involved in compliance and that they are building branches abroad to re-enforce their international partnerships.
Andrew Weissmann, Chief of Criminal Division of Fraud Section from the Department of Justice, explained how algorithms have been improved to search into the data made available by companies through their reports and to prosecute faster. They also have hired internal Compliance counsels from the pharma industry who understand the challenges faced by pharma companies.
Compliance at the heart of the global pharma companies' strategy
Compliance has to be the voice of the patient in pharma companies.
If compliance is often considered as a cost for numerous pharma companies, its role is more and more crucial. It needs to be connected with all the departments of the organization and to be at the heart of the global strategy.
According to Ashley Watson, Chief Ethics & Compliance Officer at Merck & Co, pharmaceutical companies need to implement and perform global due diligence programs involving all people in the company.
Compliance officers may face resistance to such global programs since each market or country may have its own specificities. However, they are also all facing the same issues and challenges and need to reach the same objectives.
In order to build common standards, corporate then needs to look at the common irremovable pillars across each continent:
Quality
Safety
Anti-Corruption
Human Rights
Compliance for promotional materials
Compliance for promotional materials for which risk increases with time was discussed during this congress. In the US, the FDA considers whether the firm or anyone acting on its behalf is influencing or controlling the promotional activity or communication.
With more and more communications channels available, it is important to keep control over all types of communications, including communications by patients themselves on non-restricted sites that can deliver misinformation on a drug. Companies must provide an appropriate corrective information plan, relevant and responsive to the misinformation.
The FDA has made recommendations to drive Internet/Social Media promotion that includes the scope of guidance, online microblog messaging (e.g.: Twitter), online paid searches (e.g.: Google/yahoo "sponsored links") and future character-space-limited internet/social media platforms, that present both benefits and more risks for the company in terms of message.
Managing the FMV as a key point of compliance
During the Pharmaceutical Compliance Congress, the increasing importance of efficiently managing FMV has been highlighted. There was a meeting dedicated to FMV calculation to show which criteria to use to calculate FMV as effectively as possible.
Surveys confirm that it is a complex issue where many factors are managed to reach the fairest value for the fees that pharma companies are paying to HCPs. This decision should be transversal between several departments in the companies such as Compliance, Legal, Finance, Business, Commercial, Medical Affairs and R&D.
.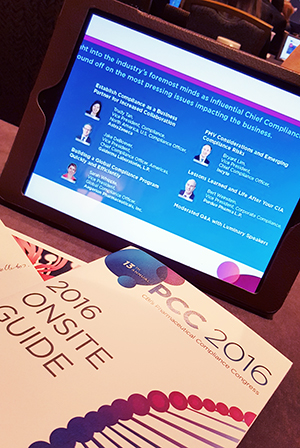 .
For more information on FMV, please contact us:

.
[1] Source: Potomac River Consulting