You may have heard of « Heartbleed », a computer program flaw that strikes the heart of internet security.
Transport Layer Security (TLS) protocol ensures the encryption of data exchanges between browsers and websites, to make it unreadable by hackers. Internet browsers report these secure connections by a small icon (a padlock), while websites' addresses go from "http" to "https".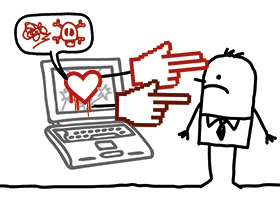 One of the implementations of this protocol, OpenSSL, has a vulnerability due to a programming error.
This vulnerability affects all web servers using OpenSSL versions published between March 2012 and April 2014. One third to two thirds of the Web servers in operation would be affected, including social networks, banking sites and e-commerce sites. This represents more than 500 000 websites worldwide.
We would like to inform you that no bug affects BMI SYSTEM's Software. In addition, we've conducted a full review of all our servers directly after the publication of press releases about this subject. It turns out that none of BMI SYSTEM servers uses the affected Open SSL version.
Our team remains available and will be pleased to answer your questions.
BMI SYSTEM.