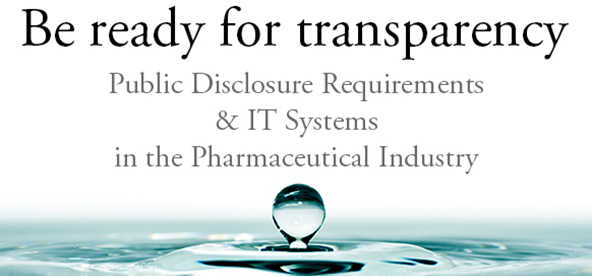 Shepherd and Wedderburn and BMI SYSTEM are delighted to invite you to a free breakfast seminar entitled:
BE READY FOR TRANSPARENCY: PUBLIC DISCLOSURE REQUIREMENTS
& IT SYSTEMS IN THE PHARMACEUTICAL INDUSTRY
Date and Time: Thursday 7 March 2013, at 08:30 am
Venue: Shepherd and Wedderburn, Condor House, 10 Saint Paul's Church Yard, London EC4M 8AL
Register Free of charge HERE
EVENT OVERVIEW
As in the US with the Sunshine Act and in France with the Xavier Bertrand law, UK pharmaceutical companies are facing tougher issues regarding the aggregation of their financial flows.  By 31 March 2013, UK pharmaceutical companies have to publicly disclose, at a national or European level, the monetary value of any financial sponsorship and other significant indirect support provided to patient organisations and healthcare professionals for activities commenced after 1 January 2012.  These requirements are European wide and it is important that the company's national affiliates and multinational headquarters liaise over data collection and display.   With this in mind, Shepherd and Wedderburn will be discussing these significant legal developments in the UK, Europe and the US. In addition, BMI SYSTEM will be presenting how to implement an easy to use IT system which will overcome the difficulty for pharmaceutical companies to define and monitor the monetary value of support that has actually been given during each year.
PROGRAMME:
08:30 – Registration and light breakfast
09:15 – Welcome and introduction – Anna Feros, Shepherd and Wedderburn
09:20 – Transparency requirements faced by pharmaceutical companies following the recent legal developments in the UK, Europe and US – Emilce Vega and Anna Feros, Shepherd and Wedderburn
09:50 – How to monitor critical processes and aggregate spend data, coupled with an international deployment – Laurent Clerc and Francis Geysermans, BMI SYSTEM Ltd
10:20 – Question & Answer session
10:30 – Close of seminar and refreshments