On the 30th June, the WSJ published an article[1] on financial relationships between pharmaceutical companies and healthcare professionals and organisations in the US.
The article informs us about the federal government transparency initiative and about payments from drug and medical device manufacturers to US doctors and teaching hospitals , which in 2014 represented approximately 6,49 billion dollars.
Since 2010, the federal government's Sunshine Act "requires manufacturers of drugs, medical devices and biologicals that participate in U.S. federal health care programs to report certain payments and items of value given to physicians and teaching hospitals"[2]. The CMS, Center for Medicare and Medicaids Services, is in charge of collecting the payments and annually discloses them on a web platform called "Open Payments".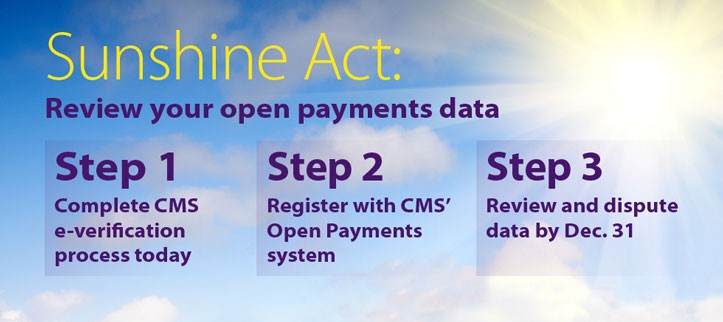 Source: American Medical Association
[1] "Drug and Medical-Device Makers Paid $6.49 Billion to Doctors, Hospitals in 2014" (http://www.wsj.com/articles/drug-and-medical-device-makers-paid-6-49-billion-to-doctors-hospitals-in-2014-1435694053)
[2] American Medical Association (http://www.ama-assn.org/ama/pub/advocacy/topics/sunshine-act-and-physician-financial-transparency-reports.page)