ORYGA®, the GDPR Software
ORYGA® helps your organization to reach GDPR compliance.
Turn the GDPR into an opportunity
General data protection regulation, can at first sight, be perceived as a constraint. However, ensuring individuals' rights, by strengthening the protection of collected data, streamline its processing and decrease several risks, became a priority and a common goal for companies investing in order to consolidate a trustful relation with their customers and their partners.
The GDPR defines a framework structuring data governance and its implementation, relying on an adapted tool solution such as ORYGA®, which allows companies to comply with its requirements and develop new competitive advantages in order to increase their competitiveness regardless of their size or economic model.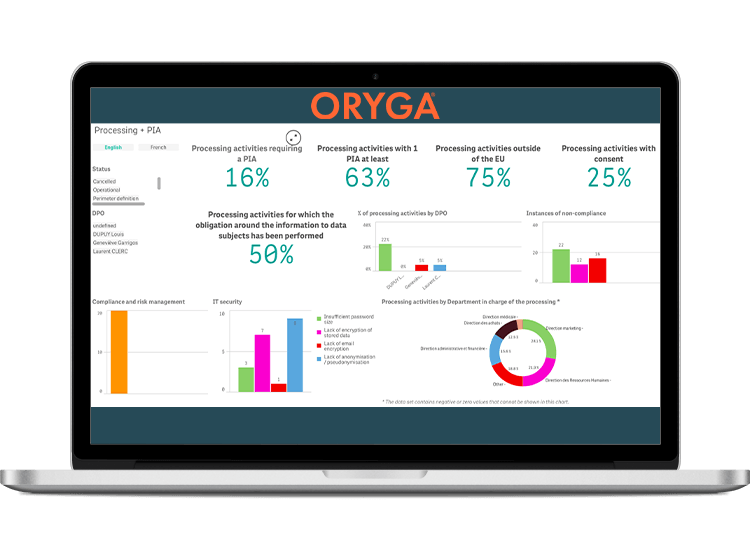 Reach GDPR compliance with ORYGA®
Designed to follow current GDPR, ORYGA® allows streamlined integration with the latest technologies surrounding personal data (PD) management and will evolve with future changes to enacted regulation. In addition to maintaining the mandated record of processing activities, ORYGA® supports:
the creation of documentation and audit trails required by the supervisory authorities.
privacy impact assessments (PIA).
relevant monitoring indicators essential for companies to effectively ensure personal data governance.
ORYGA® is a strong tool in partnership with IBM and Ageris Group.
Meet GDPR requirements with ORYGA®
We provide support and guidance to Data Protection Officers (DPO) through the entire GDPR process. Each feature of ORYGA® is based on recommendations made by data privacy authorities (CNIL, ICO…). Here are some functionalities of ORYGA® :
PIA, audits and action plans
Operations and subcontractors record
Data subject rights management
Security and breach notification record
Record and mapping of processing activities
Indicators and dashboards
Need more informations about ORYGA® and the GDPR?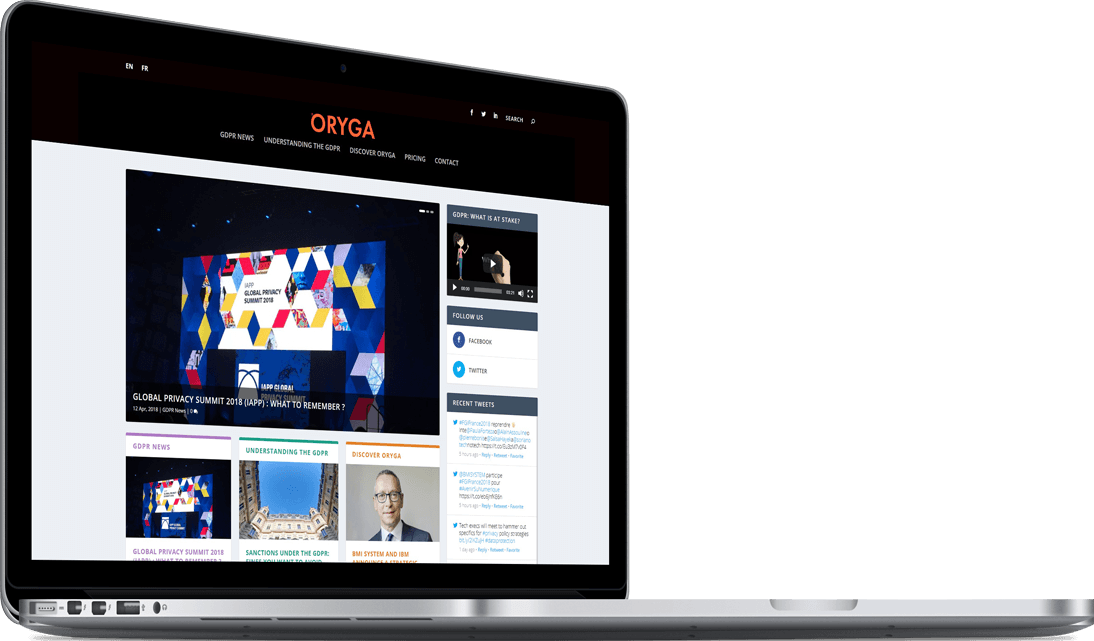 Find GDPR news and advices
We have created oryga.com to help you comply with the RGPD. You'll find articles written by our RGPD experts on many subjects: GPDR news, event reporting, opinion.
More information about ORYGA®
You'll find more informations about our product ORYGA® : pricing, features. To visit oryga.com, click on the link below.